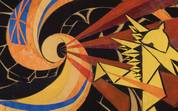 Packages - Art
Bologna
BALLA COLORATISSIMO E LUMINOSISSIMO. I COLLAGE 1914-1925
from 06-04-2013 to 01-06-2013
Until June 1st, Cinquantasei Art Gallery in Bologna exhibits over 50% collage of Giacomo Balla. The futurist artist Giacomo Balla artworks of this kind are only 60 in the world. UNA Hotel Bologna features a special package to visit this worldwide preview.
Offer active in this hotel
- UNA HOTEL BOLOGNA (Bologna)
UNA BEST PRICE
GUARANTEED
Need help
with booking?
Search
by city
Search
on map