BEST PRICE GUARANTEED
CHECK-IN ID
REQUIREMENT
FREE CALL 00 800 11211233
France - Germany - Spain - UK
CHAT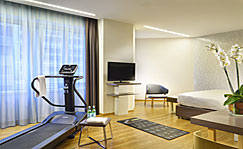 FITNESS
Special room on request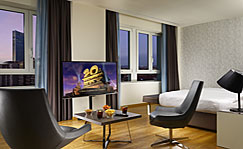 CINEMA
Special room on request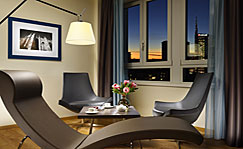 RELAX
Special room on request
UNA Hotel Century is a few steps away from Milano Stazione Centrale, the main train station of Milan, but it is located inside a courtyard protected from the city traffic.
UNA Hotel Century features a spacious office-lounge in all its 144 rooms, a restaurant with patio, a breakfast room, a bar, four meeting rooms with natural light, and garage nearby.
The renovated 4 star hotel is designed to provide accommodation suitable for both business and leisure travel, with the use of contemporary furniture, Eco-friendly materials, and environmentally friendly lighting.
Attention to the environment and sustainable tourism:
- New thermal insulation, low-emission window and door frames
- New high-performance central heating system with low sound and gas emissions to lower fuel consumption and carbon dioxide emissions.
- New air conditioning system made of extra-quiet screw units and designed following Eco-sustainable principles.
The system uses latest generation coolant gas, guaranteeing the top efficiency rating. It also regenerates the heat of condensation to heat water for the bathroom.
- The most modern building automation technologies have been used to automate the whole hotel and avoid energy wastage.
The central control boards save energy throughout the whole hotel. When guests are not in their rooms, the temperature levels are automatically kept constant, restricting the entrance of air from outside. When the guests arrive in their room and insert the electronic key, this adjusts temperature to a comfortable setting and turns the lights on to prevent unnecessary energy wastage.
- The common areas and corridors are lit with low-consumption, maximum efficiency LED lighting.
- The bathrooms have a type of tap with a special cartridge to guarantee comfort while reducing water consumption by 30%.

Feel the Italian Passion
#Culture #Art #Design #Wellness #Sport
#Life In Italy
Num. iscriz. al registro delle imprese di Milano e cod. fisc. 00849180153 - P.IVA 07410980150 Capitale sociale € 37.817.599,00 I.V.
© Gruppo UNA S.p.A. sede legale: Via Gioacchino Murat, 23, 20159 Milano