BEST PRICE GUARANTEED
CHECK-IN ID
REQUIREMENT
FREE CALL 00 800 11211233
France - Germany - Spain - UK
CHAT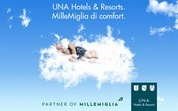 MilleMiglia Program
Earn miles with us!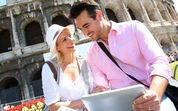 ITALY AND THE GRAND TOUR
Create your own tour throughout our beautiful cities!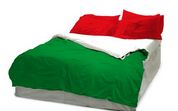 UPGRADE FORMULA
From 12 euro, superior room with free internet and minibar.
UNA Hotel Modena is an excellent starting point for discovering the beautiful Modena and its surroundings.
The 4-star hotel is located in Baggiovara in the area of the new Civil Hospital (5 minutes walking), a few km from the city centre/downtown.
The property is just 500 meters from the Baggiovara railway station, which provides frequent links with Modena city centre, is located 50 km away from the G. Marconi Airport and 8.5 km from the Modena railway station, near the Modena Trade Fair.
Located a few kilometers from the A1 Milan-Naples Motorway, UNA Hotel Modena can be easily reached by car taking the Modena exit (6 km from here).
The hotel has 95 new modern rooms air conditioned and with balcony, mini bar, hairdryer, telephone, satellite TV and large private bathroom. The hotel also offers smoking rooms (please indicate this when booking online).
The restaurant "Des Arts", which can accommodate up to 120 people, offers specialties of Emilia and traditional Italian recipes made with fresh homemade pasta and local ingredients, such as balsamic vinegar and sausages. The chef will also propose theme nights and culinary events related both to local products of Emilia Romagna and to regional specialties of Italy.
There is a buffet continental breakfast in the same area.
Guests can experience the relaxed atmosphere of UNA Café and enjoy a drink or snacks outside the opening hours of the restaurant. They can also spend an enjoyable evening in the wine bar/pub of the hotel.
The modern wellness center is on the top floor and offers a fantastic view.
Feel the Italian Passion
#Culture #Art #Design #Wellness #Sport
#Life In Italy
Num. iscriz. al registro delle imprese di Milano e cod. fisc. 00849180153 - P.IVA 07410980150 Capitale sociale € 37.817.599,00 I.V.
© ATAHOTELS S.P.A. sede legale: Via Gioacchino Murat, 17, 20159 Milano